Thanks for joining us !

We don't ask much just R.E.S.P.E.C.T. Profanity, Flaming, bashing, disruptive, or rude posts are not allowed. General 'venting' is allowed, as long as names aren't named. "please respect other members" This board is intended for family use. Please refrain from using any inappropriate words, sexual references that would not be considered "family friendly. Inappropriate content will be edited. The moderators are here to keep the place as friendly as it is. They ensure the forum is suitable for a family orientated readership.
We will close or delete threads if they get too heated or become problematic. DRAMA is not welcome here. This policy is designed to keep the board friendly, helpful and a fun place to visit.
Thank you for your cooperation!


Updated Guidelines
No political mentions, references, insinuations, or likenesses permitted in forum posts, signatures, avatars, or user names.
Any post that expresses favor or preference for or against a specific politician, political candidate, or political party, or what they stand for, will be deleted.

The goal here is to protect the good-natured civility we all enjoy here on the forum. Common sense will dictate whether a post is likely to provoke other members. If we are lucky, the member will exercise such common sense before posting, and no intervention will be required.



Thank you for your cooperation,


Brenda



Palladium Addict Website card.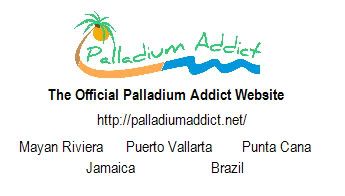 Guest Book for Punta Cana located at Hemingway Bar inside the curio cabinet
How to capture a webcam wave:

How to capture and post:
Easy instructions:
RT click and save to desktop. Upload your shot to photobucket.

Post picture on forum: Copy the img code from photobucket and past in the message body.