Grand Palladium Jamaica/Lady Hamilton Wedding Review
Hi Everyone!
This is the wedding edition of my review. For a full trip review, see the Jamaica Trip Reports forum.
We just got back from a wonderful vacation/wedding/honeymoon at the Grand Palladium.
We booked the trip back in October through Travelocity. I mainly picked the GP because of the beautiful pictures and the affordable price. Also, of the wedding coordinators I emailed, the GP was the only one to get back to me in a timely manner.
There were a total of 13 in our group. 11 of us flew Delta, 2 American and there were no problems.
Wedding:
Right after I booked the trip, I tried to confirm the date for the wedding and I ran into all kinds of problems. First, they switched wedding coordinators and then they had all kinds of computer problems. After they got all of their issues worked out, I didn't have any problems getting in touch with the WC. Of course, I was a little stressed out for a while there. I mainly worked with Phylicia, the Assistant WC, and she was wonderful. She called about 3 months before the wedding to get all the paperwork in order and to let me know what other decisions we needed to make. From then on, I kept in touch via email.
The day after we arrived, we met with Phylicia and went over the final details. It took about 20 minutes. I gave her a cd of the wedding music with a list of the tracks and when I wanted them played, the cake topper and fans and bubbles to be placed on the chairs. I wanted to have the dinner at the Beach BBQ, but she wasn't sure if we would be able to. Our backup plan was for Bubbas (which was before the whole Bubba's fiasco). She told us where and when we needed to be and that was it.
On the day of the wedding, I got up, worked out, had breakfast, got a shower (good thing I did because they didn't wash my hair before the style) and headed to the spa for my appointments. Because it was a wedding, I had to schedule everyone's appointments together. It was kind of a hassle and the person who coordinates the wedding services for the spa is not actually located at the Spa so some of the things she told me were questioned by the spa. I did manage to work everything out but just make sure you have everything in writing and printed out before you arrive. I would also recommend bring sample hairstyles.
I bought the Beauty Time package which included hair style, manicure, pedicure and makeup. Teresa did all of my services and she did a great job. Because of the humidity, my nails didn't completely dry for a long time so they were all nicked up and slightly discolored by the end of the day, but they lasted long enough for the pictures, so I was happy. I got out of the spa around 2:30 and went back to the room to get ready.
They picked up me, my bridesmaids and my Aunt Lisa (best aunt ever!) a little after 4. It was a beautiful day but really windy so my veil kept attacking everyone but luckily my hair stayed pretty much intact (thanks to about 100 bobby pins and a ton of hairspray ). Aunt Lisa walked me down the aisle/path. I was worried about walking in the sand, but it is packed down enough that I probably could have worn regular heels if I wanted to. The ceremony was just how all weddings should be – short and sweet. Reverend McKenzie was great. From then, we signed the register, toasted, and took pictures (see review next).
When we got back from taking pictures, everyone was back at the rooms waiting to see what was going on for dinner. When I was at the spa, Phylicia called to say that she could not reserve us a space at the beach BBQ and that we would have to have dinner at Bubba's. After Wednesday's dinner fiasco at Bubba's which included tears and angry friends and family I told her that I would rather take my chances of getting seated at the BBQ rather than deal with the backlash that I would inevitably incur at Bubba's. I'm so glad I did. We got seated all together at a long table close to the beach. We brought the flowers from the ceremony to decorate the table and everything was perfect! Our waiter was wonderful and the food and music was excellent. Everyone had a great time. After dinner, we had a few drinks and watched the steel drum band.

Photography/Video
I considered bringing a photographer, but decided to go with True Colors. I chose a photo/video package so I could make sure I had a good video to show the people that couldn't make it to Jamaica. I probably spent ½ of what I would have to use another photographer and I think the pictures turned out great. If I had to do it over again, I probably would have paid for the extra photography time so I could get some more pictures with friends and family and possible some sunset photos. We didn't have any pictures with just me, Brad and my in-laws. There were also no pictures of Brad and his groomsmen. However, I am very pleased with the pictures they took of us around the resort. The next day, we picked out our pictures and they had the pictures and DVD ready for us on Sunday except for the 8x10s which they sent FedEx (because we left Monday morning) and arrived the day after we got home. The video was good quality. I just can't stand to see or hear myself on video, lol. Sunday afternoon, we put on our wedding clothes again and Lisa took some TTD (trash the dress) pics. It was a lot of fun and the pictures turned out really nice (except I think I hit the buffet one too many times).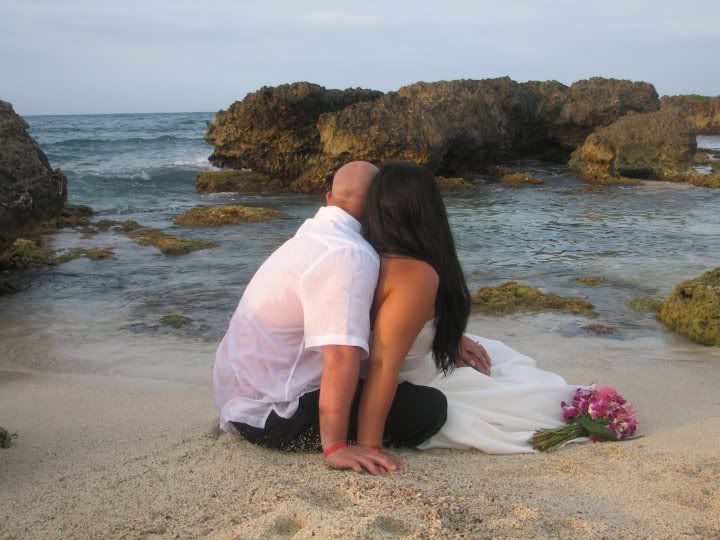 Conclusion:
I had a wonderful time at the Grand Palladium! I would go again in a heartbeat and I would recommend this resort to any bride and/or vacationer. Now we just need to pay off this vacation so we can come back!
Addidional Notes:
OOT Bags:
We had a pre-trip meeting where I handed out the OOT bags, maps, pack list, etc. I figured it would be nice for people to have the items ahead of time. Everyone but my aunt and uncle were local, so I shipped theirs.
I put the following in the OOT bags. I put the items in sandbuckets for single people and I bought larger plastic baskets for couples.
20oz bubba mugs
Camping dry bags
Travel tissues
Deck of cards
Wash cloth
Can't remember anything else.

Things I'm glad I did:
I bought a Jiffy E steam travel steamer from Amazon.com. I steamed my dress, veil, bridesmaid dresses and mother-of-the-groom dress with this great little steamer the day of the wedding.
I just used the dj for my ceremony music. I didn't want to pay all the money for the live music and that way I couId have the songs I wanted played. I made two copies of my music cd with a list of all the tracks and when they should be played. I also included some filler music. I'm glad I had two copies because I gave the videographer one copy and the dj played some of my filler songs after the ceremony while we were taking pictures etc.
Having the dinner at the beach BBQ was perfect for us.
Labeled everything I gave to the WC.
Used True Colors – The pics came out great and I saved a ton of money.

Things I would have done differently:
I would have paid for extra photography time so I didn't feel so rushed.
I probably could have skipped the fans and the bubbles. It was a really windy day, so the fans were unnecessary and I don't know if anyone even used the bubbles.
Saved the cake until all the pictures were taken.
That's about all I can think of right now, if you have any questions, feel free to email me at
cpgshop@comcast.net